HCJB
What's Cooking in the Andes?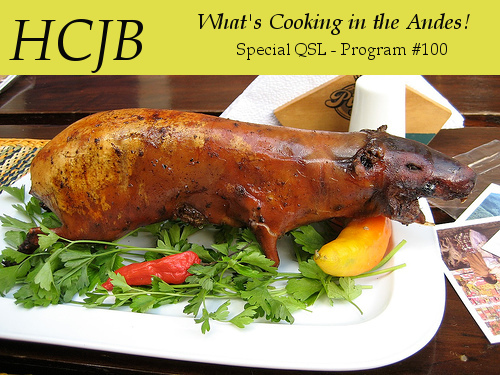 Most of the QSLs in our collection are several decades old, but this one from 1995 has to be one of our favorites! For several years in the early 1990s, HCJB had a weekly program called What's Cooking in the Andes with recipes of local foods. The program was well produced and popular with listeners, but had one problem: it was hard for listeners in Europe, North America, and Australia to find the right ingredients to make typical Ecuadorian food.
That is, until the program aired a recipe for cuy (guinea pig). Cuy is a favorite food throughout the Andes and many people raise them in pens behind their houses. On market day, it's not uncommon to see women walking home with a couple of live cuys bound up in their market baskets. As guinea pigs are easily purchased almost anywhere in Europe, North America, or Australia, the recipe was immediately a big hit. Soon listeners were clamoring for more guinea pig recipes. There's nothing that brings out the carnivore in you like eating roast meat with little claws on it.
Of course there are a lot of closed-minded people outside the Andes who think that eating guinea pigs is wrong. So one had to be careful who you mentioned this to. There were some reports of shortwave listeners drawing suspicion when they kept going back to the same pet stores for more guinea pigs. And one couple in the San Francisco area did get arrested for animal cruelty and spent a week in jail (where they were served hamburgers, fried chicken, and fish sticks at different meals).