More QSLs
From the 1936 Olympics
A few years ago we featured two QSLs from the 1936 Olympics, including the famous Nuns With Guns QSL from Vatican Radio. Here are a few more 1936 Olympics cards from the Dead DXers' Stuff collection.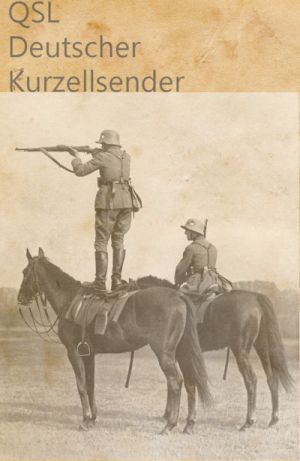 From the collection of Bill Pugh,
Chrome, Pennsylvania
The Quadathalon was one of several events introduced to the 1936 Olympics by the Nazis. In this event the fully-clothed athelete started by climbing a 20 meter rope, ringing a bell, and then climbing back down. The next part was to goose-step for two kilometers. The athelete would then climb onto a horse, stand-up, and shoot twelve shots at a target one hundred meters away and then lower himself to the saddle and ride twenty kilometers.
As expected, the Germans took the Gold Medal. However during the final ceremonies Adolf Hitler walked behind the winning horse at the wrong moment. The newsreel footage of this incident became the first newsreel to gross over $500,000 in world-wide sales (about 125 million in today's dollars) and gained an Oscar nomination for the horse.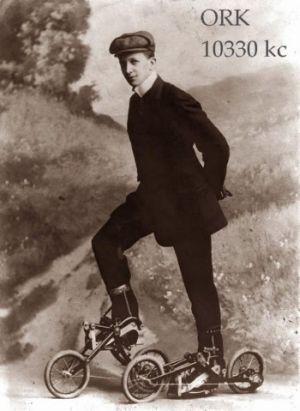 From the collection of Eric Gaston of Forget, Saskatchewan
Belgium had always been strong in the Bicycle Skates event, having taken the gold in 1924 and 1932 and silver in 1928 (narrowly losing to Norway). Neef Vermeulen, pictured on this QSL from ORK, easily took the gold in 1936.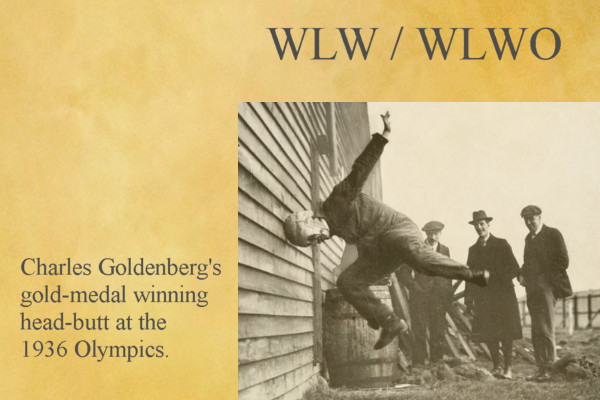 From the collection of Elmer Dixon
of London Grove, Pennsylvania
Another event introduced by the Nazis was the Running Head Butt. The athelete had to run fifty meters towards a wall and then launch himself at the wall from at least three meters away and hit his head squarely in the tenth board from the bottom. The Nazi government saw the event as another opportunity to show their physical superiority and win a gold medal. But they hadn't consider the skills of American football players and the USA walked away with the Gold, Silver, and Bronze in this event. What's more, the Gold was won by a Russian-born Jew, Charles Goldenberg (of the Green Bay Packers).
This QSL, which was issued by WLW Cincinnati after the games were over, shows Goldenberg in his game-winning head butt.