BBC Guy Fawkes Day QSLs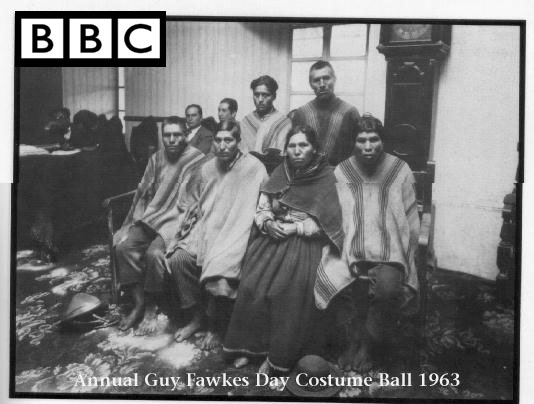 For over eighty years, from 1892 to 1972, the annual Guy Fawkes Day Costume Ball was the highlight of the London social season. Beginning in 1934, the BBC began broadcasting live from these extravaganzas, and listening in soon became a much anticipated annual event to Brit expatriates around the world.
Beginning in 1956, the BBC issued special QSLs just for these broadcasts, featuring a photo of the royal family in whatever costumes they wore that year. At the Queen's insistence, they always chose a common theme. In this QSL from 1963, the Queen is the one in the skirt in the front row, while Price Charles is the young man second from the right in the back row. Unfortunately, this tradition was canceled forever after the 1972 event created a scandal involving Prince Charles and three harem dancers from the Saudi embassy.
This card is from the collection of Len Dunkle of Beaver Dam, WI. In late 1964, Hank was one of the founders of a short-lived club for Wisconsin-area nudist DXers called NuDX. In January, 1965, they held their first club activity - a DXpedition in a cabin in northern Wisconsin. It soon became apparent that DXing in the nude in a drafty and poorly-heated cabin in below zero weather wasn't a very wise thing to do. The temperture was not a factor at their next event - a July DXpedition to the same cabin. All the club members were male, and while such activity might not raise eyebrows today, it did in 1965. When the park rangers noticed that the cabin was occupied by eight nude men, they called in the local police. After the club members were released from jail sixty days later, it was decided to disband the club.