Radio Nacional del Peru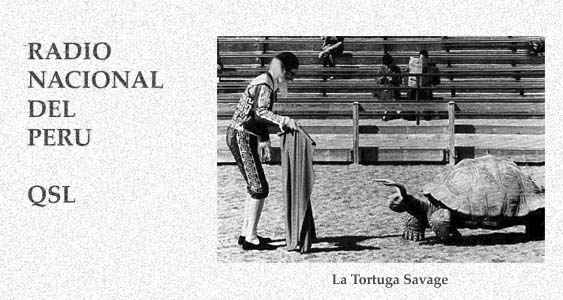 Since the time of the Spanish conquistadores, bull-fighting has been one of the most popular sports in Peru. However, in 1943, the country's bull rings had a problem when it became more profitable for cattle ranchers to sell their animals to the U.S. Army. Bull rings tried a variety of substitutes, including this Galapagos turtle, as memorialized in a 1943 QSL card from Radio Nacional del Peru. Of course, Galapagos turtles are only found in the Galapagos Islands, which belong to Ecuador. When this QSL came out, the Ecuadorian government accused Peru of kidnapping the creature from Ecuadorian territory. An international crisis was adverted when U.S. Secretary of State Cordell Hull arranged for Peru to trade a herd of 27 chartreuse-dyed llamas to Ecuador in exchange for the turtle.
This card is from the collection of Jake Hickerson of Balls Falls, Ontario. Jake was one of the best known Canadian DXers of the 1930s through 1950s until his untimely death from gangrene in 1958 after dropping an R-390A on his right foot. He probably should have seen a doctor before spending two weeks trying to repair the radio.