WPII-22
Those of you who hunt pirate stations have surely heard of Pirate Radio Insanity. But how many know that there was once an entire network of radio stations with an insane connection?
During the 1930s, the Pennsylvania Institute for the Insane operated its own radio network. It started out in 1934 as a radio-telephone system for communications between Pennsyvlania's fifteen hosptials for the insane. At first it was just used for the doctors at the different locations to discuss their more unusual cases, coordinate meetings, and the like. Soon the doctors actually began to put inmates on the air so that others could hear the actual symptoms. It's not known just when this began, but he earliest documented instance was in Januray, 1936 when Dr. Vincent Cowers of the Blue Ball Hospital for the Insane put a man on the air who believed he was Queen Victoria and let him ramble for about twenty minutes. These broadcasts were soon discovered by average shortwave listeners, who found them highly entertaining.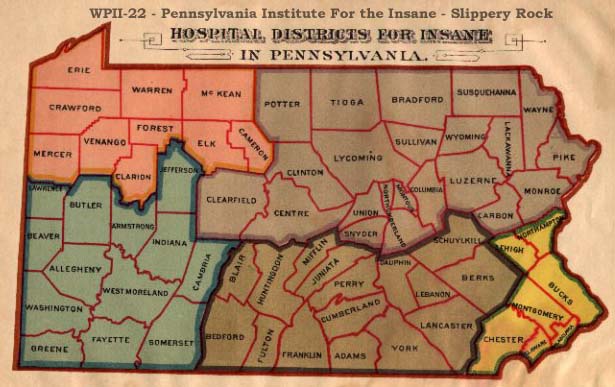 Of course, reception reports followed and several of the hospitals verified reports by letter. Only the Slippery Rock Hospital For the Insane (WPII-22) issued its own QSL card. (Some accounts indicate that the station at New Beaver also issued QSL cards, but none have been located.) Being non-broadcast stations, the fifteen stations of the network were assigned special calls between WPII-02 to WPII-30 - all even numbers. Why odd numbers were not used can only be guessed at.
Some of the doctors enjoyed the celebrity these broadcasts brought and went beyond using the radio for just clinical purposes. Most successful were the doctors at the Nanty Glo Hospital for the Insane who organized a barbershop quartet with four of their inmates and broadcast hour-long programs every Sunday afternoon. Several dozen AM stations in Pennsylvania and neighboring states picked these programs up off the shortwave and rebroadcast them. Soon the Nanty Glo Insane Four (as they were billed) were invited to do a concert at the Opera House in Johnstown and then at Altoona. This was followed by a state-wide tour of twenty-seven concerts during the summer of 1938. Unfortunately, a few months later the tenor decided he was a small squirrel and the group had to be disbanded.
The network lasted a few more years, but the novelty had worn off for shortwave listeners. A 1940 study by several psychology professors at the Pennsylvania State College found that the costs of running the network far outweighed any benefits. In early 1941, the state legislature cut funds to the network and the last station (Slippery Rock) went off the air, fittingly enough, on 1 April 1941.
This QSL is from the collection of Ken Quincy of Funk, Ohio.