NEWS FROM OTHER (INFERIOR) DX CLUBS

Editor: Don Badger
This time, we'll start with some news from the international DX scene.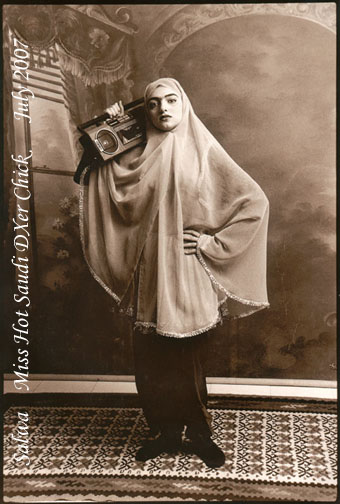 Club president Abdul ibn Bubba Mohammed of the Association of Southern Saudi DXers sends us a sample couple of their slick monthly magazine, SauDX. Each issue features loggings, QSLs, and in-depth articles on MidEastern broadcasters. Abdul says that the most popular feature is the centerfolds of veil-less Saudi DXer babes, such as Salwa here, who was Miss Hot Saudi DXer Chick of July 2007. Salwa and her too-hot-to-handle friends alone make the magazine well worth the 57 Riyals annual membership fee.
Send Bubba 5 IRCs or 2 US dollars for a sample copy to SauDX, Box 1515, Layla, Saudi Arabia. By the way, Abdul, your magazine would be easier to handle and not so slick if you wiped the oil off of it before mailing.
From Europe, the Italian club Play DX recently published a new pamphlet DXing in the Sand Box.
NORTH AMERICAN CLUB NEWS
The South Carolina Union of Manly DXers (SCUMDX) has announced that Radio Kahuzi and Cotton Tree Radio are the two finalists in this year's SWBC Stations With the Funniest Names Contest. I understand that the smart money is Radio Kahuzi.
The Arizona Society of Serious DXers was refused a permit to march in the annual Illegal Immigrant Appreciation Day Parade as their banner was deemed inappropriate. Gee, tough luck guys!
Finally, The Southern Indiana DX League want to promote our hobby among those are least aware of it, so they've recently started a Deaf DXers Aid Program. All DXers are urged to donate their broken headphones.