BLANDXFest Update

By Clay Hastings, Program Chair
This year's BLANDXFest will once again be held at the Hermann Motel in Munster, Indiana. That's right, for the first time in over two decades, a motel has agreed to host us two years in a row. The Hermann Motel has been having a tough go of it with the current state of the economy and owner Karunesh Jayaraman said that hosting another BLANDXFest might be preferable to bankruptcy since he has parents and siblings back in Kerala that would starve. That's the spirit, Karunesh!
A few updates before we get to this year's tentative schedule...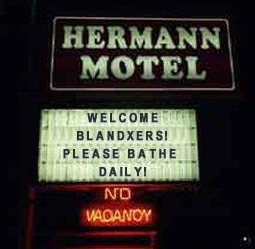 The Hermann Motel in Munster, Indiana has grudgingly agreed to host us again.
At this year's BLANDXFest, the Kansas International DX Society will not be sponsoring another Glenn Hauser Look-A-Like Contest. The real Glenn didn't appreciate all the extra meals and drinks charged to his room at the motel last year. Instead, they will hold their first Talk Like Hauser Day on Saturday. And, you better plan to use all your favorite Hauserisms! The person who does the best job, according to the Kansan judges, will win an all-expenses-paid five day visit to Enid, Oklahoma, including getting to sit in on a live recording session of World of Radio! (Caffeinated beverages not included.)
Since the main dish of lentil curry didn't go over too well at last year's banquet, we decided to go with sirloin steak this year. However, Karunesh is a devout Hindu and will not allow beef to be served in his motel banquet facilities. But, he does have a source of processed soy steaks that look and taste like the real thing and can be ordered in rare, medium, and well-done. The rare ones have even been injected with a small amount of soy milk, dyed bright red. This runs out when the soy steak is cut for a really authentic appearance.
SCHEDULED EVENTS
FRIDAY
9:00 - 9:05 a.m. Official Opening - Comments from BLANDXFest Local Committee Chairman Wes McClusky (who, per tradition, will dress up as a chicken)
9:05 to 9:15 a.m. Official Welcome - Warnings from the Mayor and Chief of Police of Munster. The Chief is also hoping to finalize investigations left over from last year, so some of you might want to skip the opening ceremony.
9:15 to 9:45 a.m. Moments for Reflection - Jack Mann will read the list of SWBC stations that closed down in the past three months. During this moving event, you are all invited to hum Taps in the background.
10:00 to 11:30 a.m. Techniques in QSLing - Ray Framus will discuss the use of automated outbound phone calls to persuade stations to answer reception reports. We will listen in to Ray's system as it makes several actual calls to stations.
11:30 a.m. - Fill out your entry forms for this year's special contest: list ten SWBC stations you think will go off the air before next year's BLANDXFest. The winner will be announced at next year's BLANDXFest. First prize is a bottle of vintage Guatemalan wine. Second prize is a new computer with Windows Vista.
11:45 to 1:00 p.m. Lunch
1:00 to 2:00 p.m. Nap Time
2:00 to 2:45 p.m. DX Fashions for 2009 - Jack Bradbury will give a slideshow of the hottest new DX fashions out of Paris. Yes, there will even be photos of models in those controversial new aluminum-foil underclothes.
2:45 to 3:30 p.m. New Trends in QSLing - Ray Framus and Jack Mann will discuss the advantages of reporting and QSLing via text messages. Several cellphones from the Dead DXers' Stuff collection will be passed around so we can browse through the QSLs.
3:30 to 3:45 p.m. Geritol Break
3:45 to 4:30 p.m. Coastal DXPeditions. - Ryan Finelli and Horace Collar will discuss the advantages of holding DXpeditions at nude beaches. As Ryan likes to point out, It's so much more fun when you don't care if conditions are lousy.
4:30 to 5:00 p.m. Forum on Electronic Card-Swapping - Phil Candaro and Lyle Lingle are trying to revive this 1950s hobby with a modern twist.
5:00 to 6:00 p.m. Nap Time
6:00 to 7:00 p.m. Keynote Address - We will play an audio tape of an old Dr. Gene Scott broadcast.
SATURDAY
7:00 a.m. Wake-Up Call - Dan Muir will get us all up for an early start. He'll be wandering the halls of the hotel singing the Sandinista fight song (Daniel by Elton John) through an amplified megaphone.
9:00 a.m. to 10:30 a.m. Home Decorating For the DXer - Dillon Hollister has always been known for his bold and innovative styles of interior decorating. Dillon will give a slideshow of his most recent undertaking - decorating the furniture in his home with decoupaged QSLs. In his recent review of Dillon's work, Jack Bradbury writes, The coffee table covered in Indonesian QSLS is absolutely precious. When something wins that kind of praise from Jack, you know this is a presentation you won't want to miss.
10:45 to 11:45 a.m. Propagation Forum - Jack Mann and Bill Rumbley will speak on An Analytical Approach to Trapezoidal Azimuth Predictions of Trans-Equatorial DX via the Oblong Polar Route. We have requested that the motel turn the air conditioning in our meeting room down to about 50 degrees. That's the only way any of us will manage to stay awake through even half of this.
11:45 a.m. Group Photo - We'll meet in the motel courtyard for our annual group photo. At special request, we will all turn around and the moon the photographer this year. The photograph will then be sent to selected non-attendees (some of whom might get significant enjoyment from such a photo).
12:00 to 1:30 p.m. Lunch
1:30 to 2:30 p.m. Nap Time
2:30 to 3:30 p.m. New Technology in DXing - Horace Collar, Clay Hastings, and Christina van Helder will discuss a number of topics including the new disposable receivers from Hammercrafted, QSLing wireless headphones, and the new optional braille digital readout from Dracosonic.
3:30 to 4:30 p.m. VOA Slide Show - Chris Owens of the VOA will give an X rated slideshow of the scandalous goings-on at last year's VOA annual Christmas party. (Due to USIA regulations, only the Canadians are permitted to attend this. American citizens, however, can stand outside the door and listen in.)
6:00 to 7:00 p.m. Annual Banquet - This year we ask that everyone eat their meal with the provided knife, spoon, and fork. If we all just take turns it shouldn't be too hard.
7 p.m. Annual Auction. This year's valuable items include several of those high-powered magnifying glasses we all need to read the logs we made 40 years ago. Rumor has it that donations will include several nude photos of Sven Gonzalez and Bill Kyle (but not together).