TECHNICAL STUFF

Editor: Christina Van Helder
PRACTICAL JOKES FOR DXERS
If you can get access to another DXer's shack for about an hour when he's not at home, you can do one of the best DX pranks around. Just open up his primary receiver and disconnect the wires that lead to the headphone and speaker jacks. Now run new wires to those jacks from a different receiver that you have hidden behind a drawer or under the desk. Now tune the hidden receiver to one of Dr. Gene Scott's frequencies. If you put in a hidden web cam, it can be a lot of fun to watch what happens!
(By the way, if you are a DX widow who wants to get her husband to spend less time DXing, contact me about my fees for performing this modification.)
CHEAP BEVERAGE ANTENNA
Keith Thayer of Turtle Creek, New Brunswick has found the perfect way to get a beverage antenna for minimal effort. Keith bought a cabin at the end of a straight half-mile lane. The powerline to the cabin ran beside the road. Keith cut down first pole on his powerline after it branched off from the main line, breaking his powerline in the process. Now he has a 1/2 mile long beverage neatly mounted 30 feet above ground on strong wooden poles. He has to power his receivers by generator, but what an antenna!
By the way, Keith is quite a artist - he makes fashion jewelry out of mylar capacitors. Thank you for the broche and earrings, Keith. I'll be wearing them at the next BLANDXFest.
READER QUESTIONS
The guys at the Colorado Association of DXers sent me this photo of their recent DXpedition using vertical beverage antennas.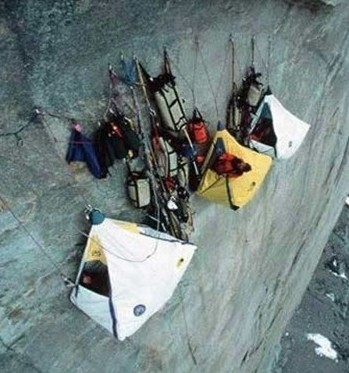 Hugh Kingsley of Painted Post, New York has an Udon 222 receiver. He points out that the manual says
Do not insert foreign objects into the receiver.
Hugh asks,
I'm in the USA, so is it OK to insert USA-made objects into the receiver. Or, since the receiver is made in China does that mean I can only insert Chinese-made objects?
You got me on that one, Hugh. To get an answer, I had to contact the manufacturer. It turns out that the guy who wrote the instruction manual is from Belgium, so you can only insert objects made in Belgium without voiding the warranty. They do promise to point this out in future printings of the manual.
Craig Sitero of Birdnest, Virginia asks What do you do if your BFO stops beating? Well, Craig, first, remain calm. Reach behind your receiver and gently massage the antenna lead-in cable for several minutes. If you find this erotic, please don't tell me about it. If the BFO does not begin beating again within five minutes, just give up and go have a beer.
NEWS FROM BLEENE
The Bleene GTW-2521 receiver is now available in lavender as well as chartreuse and dusty rose. The deluxe GTW-2522L is also available in several special designer colors, including artificial-flowers-red, polyester-shirt-blue, computer-case-beige, and vinyl-woodwork-brown. Both receivers will now be available with an electronic ignition as well as a key. The GTW series are Bleene's popular party receivers with the mini strobe lights in the digital readout.
Due out by the end of the year, the Bleene P10G-RZR will be the first pocket portable shortwave receiver with a built-in battery-operated electric razor. Now there will be no more excuses for not shaving at DXpeditions!
But, the big news from our favorite receiver manufacturer is that they are jumping into the computer age with their first SDR (software defined radio). Bleene plans to make this a flagship product, so to design the SDR user interface, Bleene has hired the same team of crack developers who wrote Microsoft Vista. I can't imagine a better pairing. This will be a product DXers will be talking about for years to come.
Finally, there are rumors that Uncle Harold's DXpedition Beanie Weenies and Bleene are teaming up to design the ultimate DXpedition radio - a methane powered receiver. That's right. Uncle Harold's will fuel you and then you can fuel your radio. Instead of a messy car battery, all you need is the case of beanie-weenies that you'd be bringing along anywhere. I can't wait to see this one put in action.
NEXT MONTH
A review of the new Swedish-made Smorgasbord 102 receiver which covers numerous small 10-15 kHz portions of the shortwave spectrum. Pat Mosley explains how to write a computer interface for a cat whisker receiver. Also, from Dillon Hollister, an article on constructing those vertical beverage antennas used in the Rockies. I'm looking forward to that. I'm always impressed by a man with a well-hung antenna.
---
---