TECHNICAL STUFF

Editor: Christina Van Helder
I need to correct something that Jack Bradbury wrote last month in the Medium Wave column. A broad band loop is not a group of women musicians standing in a circle. You have to remember that Jack's understanding of technology hasn't changed much since the 1960s. For example, he thinks a mouse pad is a place where hip mice live. Jack is not a sexist pig, unlike the rest of you.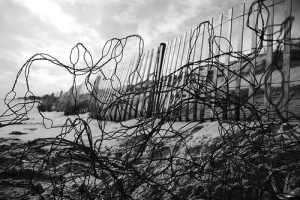 Carl Jagger of Ideal, South Dakota uses this Italian Spaghetti Antenna and a Bleene RM15 receiver.
Percy Kincaid of Society Hill, South Carolina asks "If I tune in a radio station and listen to it, wouldn't anyone else who tunes to that frequency hear a busy signal?" Percy, I'm really impressed with your inquisitiveness. Most members of BLANDX are too narrow-minded to think outside of the box like that. By the way, Percy. I think it would be a waste of money for you to buy a smart phone.
BLANDX member Mitch Connor is the CEO of the Executive Investment Bank of Dallas. Mitch writes that he has put his bailout bonus to good use and purchased a 20 acre DX ranch in east Texas. He's been experimenting with new antenna designs in his spare time. His favorite is what he calls a very affordable steerable 400 meter beverage. Mitch says all it takes is 400 meters of good antenna wire, a dozen walkie-talkies, and a dozen former factory workers making minimum wage and spaced at equal intervals. According to Mitch an overnight DX session costs less than $1000, and that includes coffee and donuts for the legally-mandated fifteen minute break for the antenna supports. He says you could save on the coffee and donuts, but when he's tried that the antenna droops a lot after about 2 a.m. He promises to upload some videos of the antenna to the BLANDX user's forum.
By the way, Mitch is too humble to talk about this, but how many of you know that he's the one who first came up with the idea of using bank assets to make loans to unemployed homeless DXers so that they could buy Racal receivers? We should all be proud to have such a prominent and respected citizen as part of our club.
RECEIVER NEWS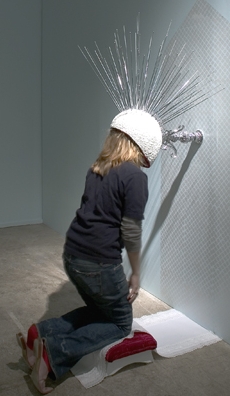 My friend Sarah wearing the new Helmetenna from Udon. The feedline runs through the tube and then through the wall to the receiver on the other side. Of course, usually the unit would be outside, but it was raining and Sarah had a big date later that evening and didnt want to ruin her hair.
To start off, I need to correct an error in last month's article on cleaning a Bleene SZ9-Q#9 receiver. The step to unplug the receiver should have appeared before, not after, the instructions on hosing down the interior with a power washer. (Our condolences to the family of DXer Jim Bennett.)
Bleene really means it when they say their new W$22p receiver should only be opened by qualified technicians. The back panels have all been bobby-trapped with explosives.
Dracosonic says that they will be making their popular ER3-ER3 receiver available in exciting designer colors such as avocado and mustard yellow. A special diet vesion is available in celery green. Don Badger tells me he has already ordered one in coronary cream.
After all the success of the Ultra-Light DX movement, Bill Grady writes that Boat Anchor DXers have realized that using the term boat anchors just isn't a very sexy way to talk about using 85 pound tube receivers with quarter-inch thick steel cabinets. They have decided to rename their organization Ultra-Heavy DXing, which they hope will help them pick up girls. I hate to burst your bubble, Bill, but it just makes me think of going on a DXPedition with Don Badger - and there's nothing romantic about that, in more ways than one.
COMING UP
Next month we'll have Dillon Hollister's full review of the Bleene RTS-7@W, the first DX-caliber receiver fully controled by a touchscreen interface. Once again, Bleene demonstrates their ability to think outside-the-box. In order to protect the touchscreen from unnecessary touches and scratches, it has been placed on the bottom of the receiver. This is also Bleene's first receiver with a built-in popcorn popper. The biggest negative of the RTS-7@W from my perspective is that it doesn't have a carrying strap. I really hate going to a DXpediton strapless. Bill Kyle sits there and ogles my receiver all night.