SLEAZY LISTENING

Editor: Art Purdy
World Toilet Day Roundup
I'm sure many of you were just as excited as me at the wide range of special programming and events by radio stations for last year's World Toilet Day on November 14, 2014. It's unusual to see radio stations come together to focus on a single event like this, so let's recap what happened this year.
All BBC Newscasts that day were read from the second stall of the 3rd floor men's room at Bush House, except for 1400, 1700, and 1900 newscasts which were done from the adjoining lady's room. I listened to five newscasts and distinctly heard background flushes during three of them. And during the 1200 newscast it sounded like maybe the guy in the next stall had eaten too much curry the night before. Or maybe that was the guy reading the news. It was Nigel and he's very unpredictable.
The Voice of America had a program (in Special English!) on the invention of splinterless toilet paper.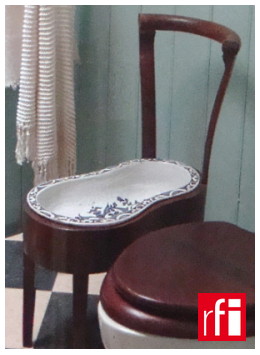 Radio France International had a fascinating look at classic French bathroom furniture, which they QSLed with this card featuring an antique French bidet.
Radio China International offered a free roll of toilet paper with every reception report made that day. (Maximum four rolls per listener.)
The Voice of Turkey produced a special 45 minute program Poo and You that was later rebroadcast on numerous public radio stations in the USA.
World University Network broadcast a marathon of Dr. Gene Scott featuring his most potty-language-laced sermons.
Peruvian Radio Cacabamba (5654 kHz) was on the air 24 hours/day the entire week.
Even the pirates were not to be left out. Radio Azteca had a special about gerbils in men's rooms. I didn't hear that one so I'm not sure of the connection. The Voice of the Lumpfish and Outhouse Radio returned to the air after years of inactivity.
On the medium wave band, Detroit's WWJ did a special all-day live broadcast from the plumbing section at the Ace Hardware in Flushing, MI. And CBM in Winnipeg and WBBM in Chicago did a special joint broadcast.
The good news is that There will be another World Toilet Day next year! That's right, read about it at this (real) link .
OTHER PROGRAM NEWS
You can't top the exitement of an event like World Toilet Day. But there is some other programming related DX news to report.
A new program on Radio Slovakia International is The Past Ends Today. This will be on Tuesday night and replace the staff yodeling contests.
In May Radio Pyongyang will be rerunning the four part series on former Supreme Leader Kim Jong-il's 1998 gall bladder surgery. Tuesdays with a repeat the following Saturday. All correct reception reports will be verified with a reproduction of the original commemorative QSL card.
---
---