TECHNICAL STUFF

Editor: Christina Van Helder
Vendor Review: The Elite DXer
For the past fews years there have been rumors of a high-end by-invitation-only vendor of DX products. I can now tell you the complete story. The Elite DXer is a small company headquartered on Saint Bathelemy island (St. Barts) in the Caribbean. The company was founded two years ago with the purpose of offering high-quality products to truly serious DXers. Until now sales have been by-invitation-only as the company consolidated its product line and distribution system. But now they are ready to open up their catalog to the discerning DX public.
I was fortunate enough to receive an early invite so I've gotten to know their products very well. You can see for youreslf at their website at The Elite DXer. But let me give you a small taste of what you'll find.
Their logbooks are made of 100% organic Italian linen paper. They come in both unscented and (my favorite) lightly scented with Slovenian Alpine lavender. For just a little extra you can have your initials embossed in gold-leaf on each page.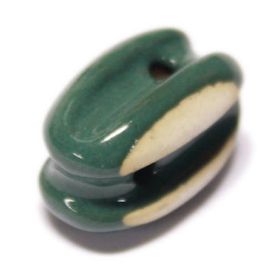 My favorite product from The Elite DXer is the ceramic insulators. These come in several colors and styles, all fired with glazes in natural hues derived from sustainably harvested tropical woods. The insulators have been handcrafted for six generations by members of the Moretti family, third cousins to Guillermo Marconi. Yes - this is the same family that made the famous insulators used at Signal Hill, Glace Bay, and Poldhu! At just $30 per pair or two pairs for $50, these insulators are shipped in special foam containers lovingly packed by Umbrian maidens. And each pair comes with a certificate of authenticity signed by the craftsman who made them. You won't find insulators of this quality or beauty anywhere else. Mine are so beautiful that I had them made into necklace pendants.
The flagship product at The Elite DXer is clearly their Handmade Artisan Coaxial Cable. This coax is assembled in Juliaca, Peru by descendents of ancient Incan rope makers - the people who made the ancient quipu knotted ropes that were used as a record-keeping system by the Incas.
The center conductor is 7x22 stranded wire made of the purest 100% Chilean copper from the San Evaristo mining cooperative in Calama, Chile. The cooperative still mines the traditional way using just pick-and-shovel and the occasional stick of organic dynamite. The inner insulation is made by Argentine gauchos using ground cow horns and a natural adhesive made by boiling bull hides. And at The Elite DXer they wouldn't even think of using inferior aluminum braid in their coax. The tightly-woven 100% silver braid is handmade in San Pedro Carcha, Guatemala, where the silver smiths have been making fine filagree silver jewelry for over 300 years. The outer insulation on the coax is pure natural rubber that is hand-harvested by natives in Acre, Brazil. The sap is then boiled down over traditional fires of Awarra palm wood before being paddled in dugout canoes to Manaus, from where it is flown to the factory in Peru. The connectors are gold-plated using a unique blend of Colombian and Brazilian gold for beauty and conductivity. Sure, this coax costs $2,500 for a 50 foot section. But serious DXers know that their hobby is worth it.
RECEIVER NEWS
Perseus owners beware! A new computer virus automatically tunes your Perseus to the strongest Brother Stair frequency and then demands payment to release it. (via Baffin Island DX Club)
Last month Ryan Finelli wrote that the new SDR program from Bleene causes memory leaks in all versions of Windows. Bleene marketing spokesman Josh Yoder responds Let me point out that most of your readers also have leaks. But, unlike your readers, the leaks from our SDR program doesn't result in puddles on the floor. That's the kind of customer service we've come to expect from Bleene.
And Bleene hasn't forgotten those of you who still like tubes. By the end of the year they expect to release the new Bleene 8WR professional grade tube receiver. This will be a 5 tube superhet design with a curb weight of only 85 pounds. Every receiver will come with the new Bleene 1000WRH Wireless Remote Headset. This is similar to a propeller beanie, but with a Yagi antenna in place of the propeller. The Yagi is powered by a marine deep cycle battery. Recommended options include a neck brace attachment for the headset and an acid-resistent backpack for the battery. As always, accidental injury, death, and dismemberment insurance is available from the Bleene Product Saftety Department.
TECHNICAL MAILBAG
Irving Erving of Thief River Falls, MN writes I got an e-mail for a bottle of something guaranteed to 'add three inches to your manhood.' That sounded like a good idea so I ordered four bottles. I figured I'd just go for an extra foot at first. So I poured it all around the base of my antenna mast but nothing happened. Thank you for writing that, Irving. Once again I'm so happy that I chose to remain single.
George Lloyd of Five Fingers, New Brunswick coaches youth hockey. He says that broken hockey sticks screwed together make great supports for beverage antennas.
Hugh Holman of Whiteface, New Hampshire says he hasn't be able to turn his R-390A on for over five months since a mouse crawled inside and died. He's now thinking of selling it on EBay.
Next month we'll have an article by Jack Bradbury on the new cubical hexagon loop antenna and Dillon Hollister will explain why you should take bear repellant on your next DXpedition.